No matter what age you are, Valentine's Day is a special time for remembering those we love. Even though the day is traditionally meant for celebrating romantic partners, it's also a great time to let the special people in your life know how much you care for them.
Whether you are looking for a token of love for a senior spouse or partner, or a special gift for a grandparent or other elderly loved one, our gift guide should help you find the perfect Valentine's Day gift for the special senior in your life!
Valentine's Gifts For An Older Woman
Here is our list of sentimental and sweet gifts for the older woman in your life!
---
Love Pop Card
LovePop cards are wonderful 3D greeting cards that make lasting keepsakes!
The outside cover of the card displays a laser cut arrangement of colorful flowers. Sweet blue and orange butterflies are nestled among the blooms. When your loved one opens the card, a wicker basket pops up. It's filled with flowers and sits on a light blue table top.
---
Gourmet Gift Basket
Gift baskets are wonderful because they feature a variety of fun items. A gourmet gift basket is even better! Their gift items are Kosher OU-D certified, plus many are gluten free.
They also have beautiful flower gifts, wine gifts, and spa gifts to indulge your special lady.
---
Preserved Real Rose With I Love You Necklace In 100 Languages
I think this meaningful gift is cool on two levels – she gets to see a daily reminder of your love when she looks at the rose, plus she can wear a beautiful necklace that says "I love you" in 100 languages.
The rose is real and will last from 3 to 5 years if kept in a cool place. The 100 love phrases are written microscopically (nano-micro engraving) on the stone in the middle of the heart (a smart phone is required to view the phrases or you can shine a flashlight through it to project on a wall).
You can choose from a variety of different color roses, too.
---
Inspirational Bracelet
These beautiful inspirational bracelets are pretty on the outside, but have a lovely sentiment written inside. When she wears it, she will be reminded of your feelings for her every time she looks at it.
These bangle bracelets are 2.5″ in diameter, 0.24″ wide, with a pull/press flexible opening. They are easy to put on and adjust to fit most size wrists. They are made of Surgical Stainless Steel 316L grade, hypoallergenic, and Nickel free. The bracelet is water-resistant, and won't ever fade, rust, or tarnish.
This saying is "Always and Forever, no matter what," but there are also many other messages to choose from.
---
Kindle Paperwhite – 11th Generation
This Kindle eReader has all the newest bells and whistles. It features a 300 ppi glare-free display that reads like real paper, even in bright sunlight, so Mom or Grandma won't have to stop and adjust the screen's brightness.
It also comes with wireless charging, auto-adjusting front light that changes the screen brightness based on the surrounding light, and 32 GB storage. A single charge can last a full 10 weeks now! Oh – and it's waterproof.
The Kindle Paperwhite can hold thousands of books so she will never be without reading material.
---
Insulated Stainless Steel Tumbler
Featuring a lovely sentiment (several to choose from), it will make your gal feel special every time she looks at it.
This tumbler has a leakproof cap and is made from food-grade stainless steel and BPA-free components. It's vacuum-insulated, so it can keep beverages hot or cold for up to 9 hours, depending on the outside temperature. Fits in most car cup holders.
---
Spa Gift Set With Bathrobe And Slippers
Pamper her with this luxurious gift set containing a spa flannel bathrobe, spa slippers with non-slip rubber soles, body wash, body lotion, a bath puff and 2 bath bombs.
The bathrobe is made of high-quality flannel. It's durable and absorbent and measures 47in long, the bust is 51in, with a tie at the waist. There are also two big pockets for holding keys, a cell phone, tissue, etc.
---
Natural Bath Spa Gift Set
This pretty gift set is formulated with natural ingredients and comes with 15 pieces, all in the relaxing scent of vanilla.
It includes: Soap, Shampoo Bar, Vanilla Massage Oil, 2pc Bath Bombs, Shower Gel, Bubble Bath, Body Lotion, Body Scrub, Bath Salt, Bath Puff, Body Brush, Hand Cream, Dry Hair Cap, Handmade Tote Bag.
---
Sterling Silver Heart "I Love U 2 The Moon and Back" Pendant Necklace
This lovely sterling silver necklace features two nesting half-heart charms that open to reveal a crescent moon and heart inner charm. The sentimental engraving says "I love U 2 the Moon & Back"
NOTE: It fastens with a spring ring clasp, which might be a drawback for a women who has arthritic fingers.
---
Valentine's Gifts For An Elderly Man
Not sure what to get your elderly dad or grandfather? These gifts are sure to bring a smile to your senior loved one's face!
---
Personalized Whiskey Label Glasses for Whiskey, Scotch, And Bourbon
For the man who enjoys a fine liquor, these glasses feature a 3D whiskey bottle label design. They are NOT screen printed or laser engraved – they are deeply, individually hand-carved out of the whiskey glass (the words and personalization are raised up from the bar glass surface).
They are 4.25 high x 3.4″ wide and hold 13.5 oz. They are also dishwasher safe and the design will not fade, wear away, or degrade.
You can choose from a single glass, a pair of glasses, or a group of 4 glasses.
---
Personalized Golf Ball Marker Divot Repair Tool
The older man who loves to golf will appreciate this personalized and durable alloy divot repair tool. Engrave it with his name or initials.
This is a durable, long-lasting gift. One reviewer wrote, "I have had mine for over a year and I carry it in my pocket with a couple of tees and a spare ball. I play golf twice a week walking the course and mine still looks like new."
---
Amazon Echo Dot
The Amazon Alexa products do so many things! Dad or Grandpa can listen to the television with Echo Dot by their side and it will act like a speaker so the TV volume isn't heard down the street.
He can also use the Echo Dot to control smart plugs (see next gift recommendation (below) so he doesn't have to get up to control various home appliances and electronics (with compatible devices).
Among hundreds of things it can do, the Echo Dot can play games, tell him a joke, let him know the weather, act as an intercom or set reminders / alarms, or play sleep sounds to help him fall asleep.
It can message his friends and family, play his favorite music, and read an audiobook to him. In an emergency, it can even Call My Buddy (an app) to alert a loved one that he needs help.
---
Alexa Smart Plugs
Compatible with either Amazon Echo devices or Google Assistant, these smart plugs will let Dad control his home electronics and appliances from the comfort of his couch.
These smart plugs are WiFi-enabled and don't require a hub or subscription (however, Dad will need either an Amazon Echo device (see previous section) or a Google Home device to enable these plugs).
---
Personalized Beer Mug Sign For Man Cave Or Home Bar
This one of a kind sign is available in two sizes – a standard 9.25″ x 23″ (as shown) or a larger 11.25″ x 28″. It is made using a two tone stain finish on 3/4″ Solid Pine that's finished with a sealer.
It includes a sawtooth hanger on the back for quick and easy hanging.
---
A Beef Jerky Heart
This unique gift is sure to please and has been featured on the Today Show, NBC, Esquire and The Wall Street Journal.
The heart-shaped box comes with 10 savory, seasoned beef jerky flavors (each .5 oz.) including: Classic, Garlic Jerky, Ghost Pepper, Habanero, Black Pepper, Root Beer, Root Beer Habanero, Whiskey Maple, Honey Bourbon and Sesame Ginger.
---
CRAVEBOX Snack Box Variety Pack Care Package (45 Count)
This 45 count care package includes a mix of sweet, salty, savory, and healthy snacks he's definitely going to love!
The dimensions are 12.2in x 10.5in x 3in and includes 1 ZeeZee's Grahams, 1 Chex Mix, 1 Famous Amos Cookies, 1 Cheez-its, 1 Goldfish, 1 PB Crackers, 1 Pringles, 1 Mini Cookies, 1 PurePop, 2 Rice Krispies, 1 ZeeZee's Bar, 5 Fun Dip, 3 Mott's Fruit Snacks, 2 Welch's, 6 Twizzlers, 2 Aiheads, 2 Tootsie Pops, 3 Kirkland Chewy, 5 Laffy Taffy, 3 Quaker Chewy, 1 Nature Valey Oats & Honey.
---
Leather Catchall Valet Tray
This leather catch all is meant for a place to empty one's pockets at the beginning or end of the day on a desk, dresser or nightstand. It's a leather valet tray for keys, coins, wallets, pocket knife, cellphone, and other EDC items.
Made of full grain leather, it measures 13.75″ Wide X 9.5″ Deep X 1.6″ High.
---
Shiatsu Back Shoulder and Neck Massager with Heat
Featuring infrared heating and 8 kneading massage nodes, this massager helps in improving the blood circulation and relieves body aches, cramps, and tension.
It also has an auto shut off after 15 minutes, plus it comes with a home power adapter and a car charger for a heat induced massage anytime, anywhere.
---
Minnetonka Men's Tilden Moccasin Suede Indoor and Outdoor Slipper
Constructed with two layers of genuine suede, this men's fleece lined moccasin provide a light and flexible footwear while keeping his feet warm on chilly days.
These outdoor suede slippers for men are specially constructed with a suede upper, lush pile lining, a removable contoured insole, and heavily treaded sole for comfort, support, and traction while wearing outside or inside.
---
Valentine's Gifts For A Senior Couple
Looking for a Valentine's gift for your elderly parents, grandparents, or another favorite senior couple? Check our these special recommendations!
---
Treats From Edible Arrangements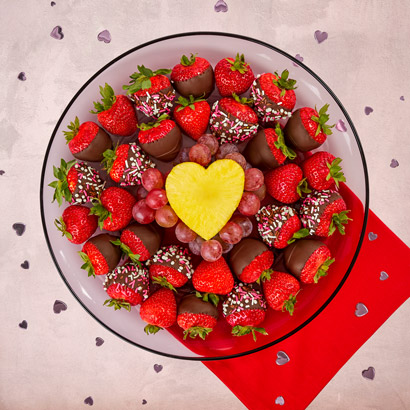 Edible Arrangements has a huge variety of fruit treats, edible fruit bouquets, and festive combinations of foods plus gifts, such as flowers or balloons.
I've received these as gifts in the past and can vouch for their freshness. They are so yummy, your senior loved ones will love your thoughtfulness!
---
Splendid Spoon Meal Subscription
Splendid Spoon has some delicious meal options for an older couple who eats a plant based diet. Their foods are always plant-based, gluten-free, and non-GMO.
Featuring soups, grain bowls, noodle bowls, cold pressed juice and smoothies, Splendid Spoon is perfect for seniors who want to eat healthy, tasty food.
---
Custom Star Sky Map Print
This custom print is an accurate constellation map of sky based on the date, location and time you provide. What a great way to honor a senior couple's wedding date or another special moment in their lives!
The beautiful star map is printed on premium, no-glare matte paper using archival inks and the giclee print is color fading resistant. NOTE: FRAME IS NOT INCLUDED!
---
Heart Framed, Personalized Map
Honor the place where your senior loved ones met, married, or now live with this colorful digital map. Beautifully framed in a 13"h x13"w x 1.5"d solid New Zealand Pine shadow box frame, it is professionally printed on a premium matte archival Red River paper with ChromaLife100+ inks.
The design itself measures 12"x12" and you can choose wither a white or black frame. Personalize their love with their names and wedding date for an extra-special touch!
---
Personalized Vinyl Record Print Of "Our Song" Lyrics
Does the senior couple in your life have a favorite song that is "our song"? Then print it out in record form (NOTE: this is a PICTURE of a record, it is NOT an actual record)!
This usual memento is professionally printed on a premium matte archival Red River paper with ChromaLife100+ inks. It comes framed in a 13"h x13"w x 1.5"d solid New Zealand Pine shadow box frame (choice of white or black frame).
---
Echo Show
This is a bundle that includes both the Echo Show 8 (2nd generation) and an adjustable stand. For seniors, we recommend the bigger 8″ screen because it is easier to see and read than the smaller 5″ screen.
The Echo Show is a great way for seniors to stay in touch with family via video calls if they also have an Echo Show. In addition, this great device can answer questions, tell the weather, set reminder and alarms, control electronics in the home (with compatible devices attached to them).
It can keep people informed of the latest news, play games, answer trivia, and tell jokes. It can help find you phone when you don't know where it is, plus it can become a digital picture frame through Amazon Photos. Alexa literally has around 85,000 "skills" (things it can do)!
If you have a senior loved one, this is also a great way to use the Alexa Drop In Skill to visually check on them for peace of mind (with their consent, of course!).
---
Digital Picture Frame – Send Pictures From Anywhere!
This 16 GB storage digital frame can hold more than 40,000 images! But, the best thing about it is that it can receive images from anywhere via 2.4 Ghz WiFi.
Loved ones around the world can share images with your favorite senior couple via phone app or sending email. It features a high-quality 10.1" touch screen display with 1280*800 resolution and 16: 10 aspect ratio, plus customized sleep mode.
If your loved ones aren't computer savvy, no worries – it features easy setup via touch screen so anyone of any age can use it.
---
OUR MOMENTS: Families
These fun and engaging cards feature interesting and thought provoking topics that encourage conversations among family members.
---
For other ideas, check out our comprehensive guides to find the best gifts for seniors!
---