We recommend many products through our website and our readers seem to be loving them! Of course, they also show us the products that they've found most useful and we love sharing them with you.
Our List Of The Top Selling Items Our Readers Bought In October 2020
MGrip Adjustable Contoured Bed Rail
In October 2020 it seems that bed rails were a fairly popular item! This particular one, the MGrip Adjustable Bed Rail is very easy to assemble and put in place. The contoured handle makes it just a bit safer for someone to hold onto the rail without their hand slipping off of it. It can be used for individuals who weight up to 300 lbs.
More Products To Prevent Older Adults From Falling Out Of Bed
---
Bed Rail for Elderly Adults
This bed rail by the Juvo Store is very similar to the one that my mom-in-law uses. It's a very simple and basic bed rail with a pocket to hold items such as TV remote, cell phone, a book or two, etc. It's also very easy to assemble and to put in place. It can be used for individuals who weight up to 300 lbs.
---
CallToU Wireless Caregiver Pager Smart Call System
This wireless pager is perfect for seniors and their caregivers while they are both in the house. The transmitters are also waterproof so they can be installed in the shower. Transmitters are also portable so your senior loved one can carry it in their pocket throughout the house. The operating range is 500 plus feet in open areas but no worries – reviewers report it works extremely well in their homes with walls and multiple levels.
---
Video Baby Monitor with Digital Camera
This video baby monitor with a digital camera was very popular this month and it's easy to see why. It's easy to set up, has 2 way talk, night vision and temperature monitoring. It's a very inexpensive and easy way to safely monitor a senior loved one in your own home!
Other Viideo Monitoring Devices
---
Patient Transfer and Walking Gait Belt
I used transfer gait belts exactly like this one for many years working in rehabilitation hospitals and nursing homes with thousands of elderly patients. It's such an easy item to use and worth using if you are caregiving for someone who needs help with mobility issues. In my honest opinion, I think every household with elderly residents should have one of these.
---
SimpliSafe Home Security

SimpliSafe is so easy to set up (you really wouldn't believe how easy) and better than that – it's even easier to use! This is great for older adults who may have trouble using tech devices. If you're considering changing home security systems – consider SimpliSafe – I do think you will love how customizable and effective it is.
---
RangeSafe Stove Safety Knob
These RangeSafe knobs are wonderful and it's no surprise that they are so popular. The patented "pinch, push and turn" actions that you have to do to turn on your gas stove make it much harder for seniors with dementia or Alzheimers to use and for children to use as well. In addition, just leaning over your stove that uses traditional knobs can sometimes ignite it. But not with these!
---
blurams Home Pro, Security Camera
We have been recommending the Blurams security camera throughout multiple articles like the one we wrote about video monitoring products and the one for seniors living alone. And it has certainly become a very popular product amongst our readers.
It's multiple features such as night vision, 2 way talk and it's ability to be connected to Alexa are just a few of the many wonderful things that it can do to help you and your loved ones get that added bit of security and monitoring.
Other Video Monitoring Devices
---
Kindle Paperwhite
If your or a senior loved one loves to read – then what could be more useful than a Kindle? This new model is also waterproof! So many books available in one waterproof tablet that he can read indoors or outdoors!
More About Kindle Devices For Seniors
---
Echo Show (2nd Gen)
The Echo Show has been a popular item amongst our readers for several months now and who can blame them? It can be used to do so many wonderful things not only for older adults but for their families as well. Everything from ordering products and food to video chatting to security and so much more. Check out all the skills that it can do for you and your senior loved ones.
---
Smart Lighting Products from Best Buy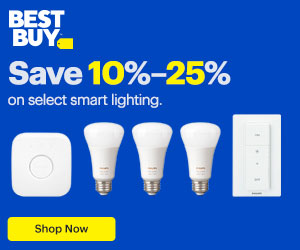 If you have an Alexa or Google Home device – take advantage of all the great smart home lighting that you can do throughout the house when you integrate these with those devices. You can use your voice to turn lights on and off and of course, you can automate the process as well! It's a great safety feature for households with older residents.
More About Lighting To Help Prevent Falls
---